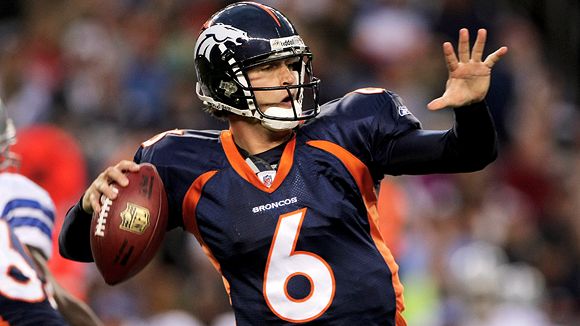 Over the weekend we saw the Chiefs trade a 2nd round draft pick and a guaranteed $14M for Matt Cassel. As my millions and millions of loyal readers know, TPC is not a big fan of Cassel and thinks it was very apropo for the poor K.C. Chiefs to trade for the overpriced system QB. When you let Herm Edwards ruin your franchise and all time great Fantasy Football systems, why stop there?
Cassel is a very good QB in terms of mobility, but as I pointed out many times Cassel came into the perfect situation. He had a very good offensive line. Two Pro Bowl Wide Receivers (Moss and Welker) and basically the same team that broke almost every passing record in NFL history the year before. With all that he had modest success, 21 TD's and 11 INT's with a QB rating of 89.4 and a 7.2 Yards Per Attempt. Keep in mind this was also against one of the worst NFL schedules in recent years. Compare that to Tom Brady's 2007 stats and you wonder what all the fuss is about with Cassel (50TD's 8Int's a 117 passing rating a YPA of 8.3).
Now, while all this was going on, seemingly the Denver Broncos were willing to throw Jay Cutler into the mix in order to have a shot at Cassel. Why would a team with a 26 year old up and coming Pro Bowl QB stud in Cutler go after a guy like Cassel is really mind boggling. Now granted, I have said many times prior that Cutler hasn't been as good as his statistics would lead you to believe and the fact is, he makes big mistakes at bad times. However, he is also only 26 and is the most physically gifted QB in the NFL bar none. When he's on his game, no one can do what he can do, with his arm strength and mobility. Yes, he has a big mouth and yes he's prone to the big mistake, but he's freakin only 26- a puppy in NFL QB years. You can make a very good case that if the NFL put all their players in a big pool and started a draft tomorrow, Cutler would be a top 10 pick at worst and possibly top 3, while Cassel wouldn't go in the top 50. So why does Josh McDaniels and new Denver Management do this? Who knows. Maybe they are just showing their inexperience. Maybe there's more to Cutler being a pain in the toochas than we all know.
The Bucs signed former Giant Derrick Ward for a 4 year $17M deal which will not make the Buc fans happy. Yes, he's a decent back but Ward made a living facing a defensive front that just got it's teeth smashed in by Brandon "The Real Deal" Jacobs. You can put any decent back in behind Jacobs and that offensive line and he will be successful. Ward was a product of that system.
Between the Cassel-Cutler fiasco and the Ward deal, you wonder what you need to do to become a GM in the National Football League.
At least the Jets got it right by signing the right LB from Baltimore and not paying for the overpriced and overaged Ray Lewis. Bart Scott was the right man for the Jets and will help shore up that defense.
Dwayne Wade had an incredible week, scoring 24 points in the 4th Quarter to lead a 16 point comeback againts the Knicks and then fell just short in his Mano a Mano game vs. Lebron last night scoring 41 points, 7 rebounds 9 assists and 7 steals. WOW. You can take Kobe all day, for my money D-Wade is the second dog to King James.
We're about a month away from opening day and the most dangerous hitter we have ever seen (Manny Ramirez) is still waiting for a call. This after he posted a monster second half- averaging about an RBI a game and hitting .400 leading the Dodgers to the postseason. Amazing times we live in.